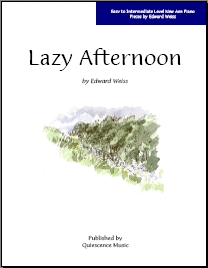 Take a break from your hectic life with this easy piece for New Age piano. "Lazy Afternoon" is in the Key of D Major and uses open position chords in 4/4 time. "Great free piano sheet music!" -- Robert W.
Code: QM-3498
Playing Level: Easy/Intermediate
Key: D Major
Composer: Edward Weiss
Pages: 2
Format: PDF file
Click here to access "Lazy Afternoon"
Want to be able to create your own music like this without sheets? Look into Edward Weiss's
online piano lessons
.